Hey guys! :) See, what'd I tell you⎯feeling much better. :)
This past week, I was working with my students to create some kickass thrifted DIY fashion. Some fantastic bloggers you may (and should!) know were kind enough to do interviews so that the students may learn a thing or two from the experts. As I start posting stuff from our Week Without Walls, I want to also post the interviews because they were awesome and because these ladies rock. With that said, here's Kathleen!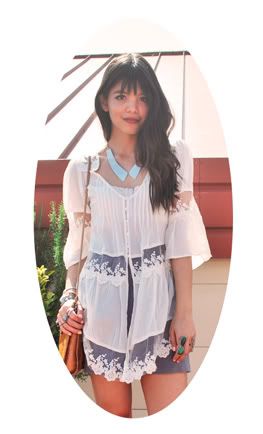 1) How did you first start thrifting?
I was actually introduced to thrifting and vintage shopping by my Mom. She has a collection of beautiful thrifted pieces, in particular my favorite are her wool coats/blazers. Long time ago, she brought me along to first thrift store ever, Goodwill. It was so fun searching for unique and fun treasured pieces for an amazing price.

2) What items do you advise to always thrift (as opposed to buy new)?
I always love finding cool blouses because they're kind of like a basic for my wardrobe and something I don't want to buy new necessarily. Also, cool items I love thrifting are structured bags.
3) What is your favorite "DIY" project you've tried?
I loveloove my recent leather jacket I studded on the collar. It makes the jacket look more fun and oddly enough, more expensive with silver studs from my perspective. DIY projects are such great ways to add your own flare to items and make them into something you'd feel more comfortable wearing out.
4) What is something a first-time thrifter should avoid?
First time thrifters usually are overwhelmed by the amount of clothing available at hand. I'd say take it in with small steps and go to a particular area you are more interested in finding a nice piece to add to your wardrobe. Also, avoid just picking out items with your regular size -- thrifted items can either be belted or if they're too long for jeans can be cut off to shorts.
5) Favorite place in the Bay to thrift?
I am obsessed with
Wasteland
-- every time I go there I always score a great pair of Levi's shorts. One time I got these cool slashed Levi's denim shorts that were tie-dyed red previously.
6) Current trend you're really digging?
Gotta love the ombre colored tops or dresses, they add this cool effect and make a boring clothing item more interesting to the eye.
7) Do you have any advice for fashion bloggers who are just starting?
Blog about what you love -- whether it's fashion design, trends, personal style, or all of the above. Passion and genuineness are great factors to a blog. Most importantly, have fun with your blog journey!