Henrik and I live in Temescal, which is famous for its restaurants! Our part of North Oakland is crammed with cute little eateries of all kinds⎯Korean barbecue, Ethiopian fare, strawberry short cake and chicken, pizza, macaroni and cheese... you name it. We're planning on going to as many restaurants as possible up Telegraph, so keep an eye out for that. (I should be writing a lot more about Oakland now that my TFA classes are coming to an end and I have more time to devote to my blog!)
Speaking of restaurants, Henrik and I went to Rockridge (a neighborhood in North Oakland as well) to eat at Crepevine the other night!

What to expect:
There's been a line every time I've come, but it doesn't take too long. Two folks at the registers, generally not exceptionally pleasant (I wouldn't say rude, though⎯perhaps just unhappy?). You order at the register and then take your number and find your seat. There are a variety of places to choose from. Outside is really nice, and I've seen people have lunch with their dog right near by, so cheers to that! My favorite spot to sit is this little nook up on the second floor. The wait for your food is usually pretty long, and you may have to remind them of an item. Once your food comes, though, you're golden. I like to sit a while after eating and people watch, if I'm being honest. I like that Crepevine has take-out boxes available for you to grab on your own; it's pretty independent feeling, and you can leave whenever you feel ready.
Whom To Bring:
Your mom for brunch. Your trusty canine companion. A girl pal for a lazy Sunday lunch. A study buddy. Well-behaved, fancy-pants children. ;)
Personal Favorites:
French fries, definitely. I like that almost everything comes with a salad, because I am a huge salad fan (the Greek and Caesar are my favorites so far). As for the crepes, I'm partial to the Triberry crepe because I'm a fruit kind of girl. It comes with some BANGIN' vanilla ice cream and ground up pistachios! Yummmmm. :)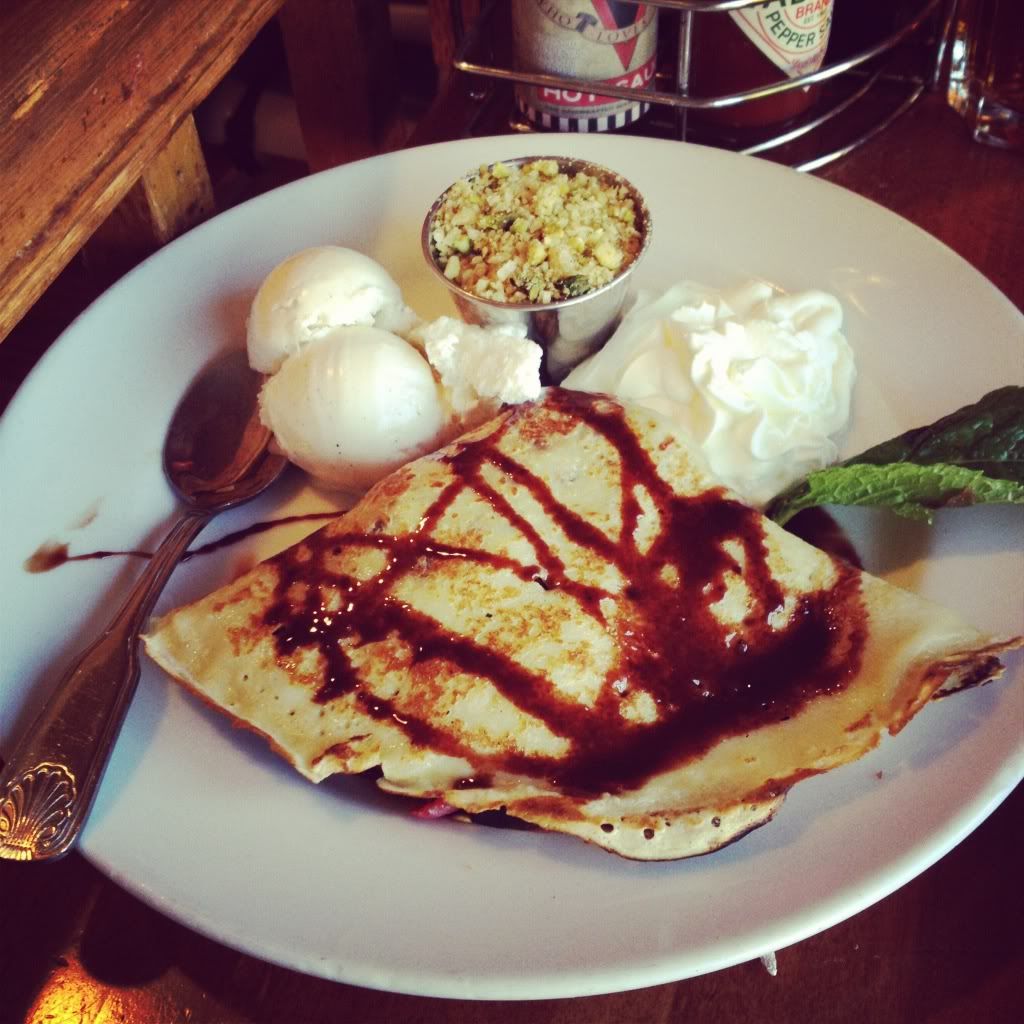 nice creepy photo to finish this post off
So yeah! A nice little spot for breakfast or lunch. If you're in the area, maybe check it out! :)