Where am I off to? Well, that's a bit of a secret! ;) I'm flying out tonight for a week-long trip and I could not be more excited. I'll be sure to fill you all in when I get back. :D
Preparing for this trip was tricky, as I wanted to pack light (because I will be wandering around for a good portion of it). As you've probably guessed, packing light is not an easy thing for me; I love clothes, and I'm a bit of a pack-rat. That said, I think I've done a good job! Here's what I've narrowed down to for my carry-on and backpack. :)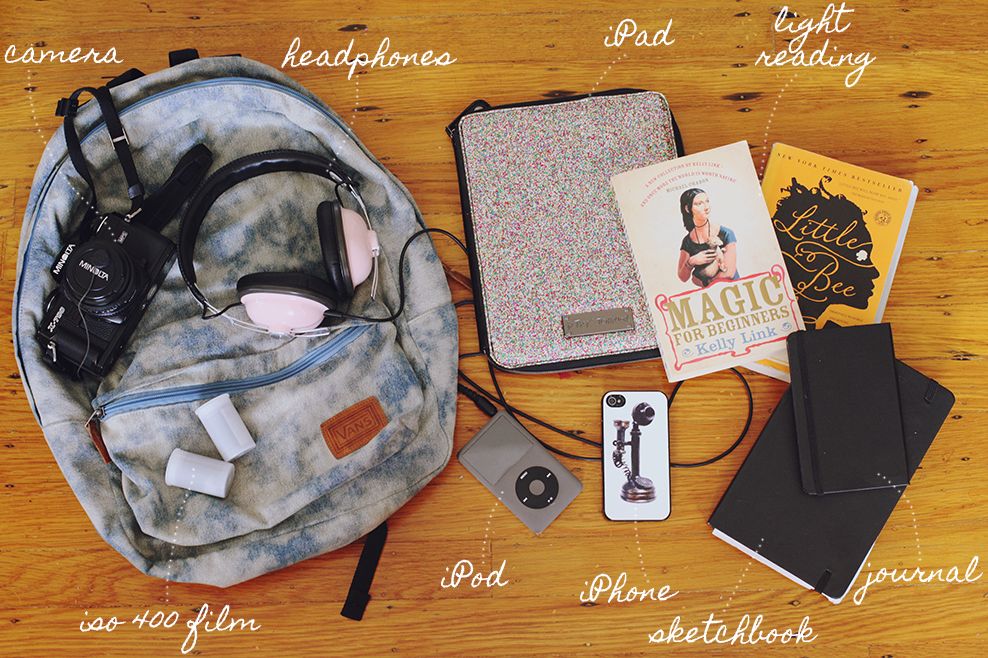 My tips for packing light? (Not that I'm an expert, hah!)
Ditch the digital. Notice my baby isn't pictured? For quick trips, lugging the big ole' camera is, to me, not worth it. I have a few smaller digital cameras, but I opted to bring my film camera. Light, easy, and makes for interesting pictures later. :)
Be smart with your tech choices. Goes along with the camera. It's easy to want to bring your iPod, your iPhone, your computer, your Kindle, etc. etc. I'm the queen of Too-Much-Technology (it's a small land of very distracted people), but I tried to cut back on my gadgets. I personally hate taking my laptop out when going through security, and it's heavy, so I opted to bring my iPad instead; everything I'd need a computer for this trip, my iPad will suffice. I can put books on there, surf the web, play games while traveling...it rocks, basically. If I wanted to pack super light, I could have left my iPad behind and just used my iPhone, but I get tired of that baby screen. ;)
Plan your outfits. This probably seems obvious, but maybe it isn't. I know a couple of times while packing, I would reach over to grab one of my favorite blouses that was totally not necessary for this trip, simply because it was cute. Stop that! I had to literally point to my outfits for each day to make sure I only brought what I needed—Tuesday: orange pants, striped shirt. Wednesday: polka dot shirt, velvet dress, black tights. Thursday: polka dot shirt, tan sweater, black pants. (You get the drill). I also suggest, if it's a really short trip, bringing just one pair of shoes that will go with everything. Shoes are so big and clunky! They take up too much space. And, I usually travel with neutral colored clothes. They go together better and I don't have to think too much. Ahh, simplicity.
So there you have it! :) I have a few more things to get together before I leave, but I will try to update if I can while I'm gone. If not...try to figure out where I am through my
Instagram
! ;D Oh, and for the record, I am not April Fools-ing you!