We're baaaaaack. Yep, all you fellow students, it is spring semester. Why they call it "spring" semester has always eluded me, as it really consists of only one spring month (April), during which we're all frantically readying ourselves for finals, holed-up in our dorms and apartments, and so hardly notice it. What I have noticed is the Arctic tundra that has moseyed its way down onto the United States. Oh, Polar Vortex, you crazy thing. I'm in North Carolina and we've already had two snow days! Granted, they have been pretty pathetic snow-wise (a dusting, I'd call it), but who's complaining! Already this semester has me eating cookie-dough straight from the tub, so I could use an unexpected break now and then. ;)
If you're like me, something you may be stressing about is textbooks. I always am getting my textbooks right at the last minute, hoping (usually in vain) to find them
not
at some insane astronomical price. Luckily, this past year, I found out about
Campus Book Rentals
. While I've never rented books before, it seems genius. Not only do you save
40-90%
off of bookstore prices, but there's also
free shipping
both ways! (I mean....free shipping is literally the best thing since sliced bread, amiright?) You can even highlight in them like you do your own books, all my color-happy friends! And, as if all of this wasn't great enough, they've partnered with
Operation Smile
and are donating over
1,000 life changing cleft lip surgeries
this year to children in need. Pretty fantastic, if you ask me. They've also started a new service called
Rent Back
; you can rent your textbooks to other students and make
2-4 times
as much as you would just selling them to a bookstore. When you're looking for textbooks this spring (or summer, you go-getters) semester, I'd suggest you check out Campus Book Rentals.
Of course, once you save all that money on textbooks, you should probably go shopping. (Just my honest thoughts, folks!) All this frigid weather has me dreaming of spring and already stocking up on my spring-school-days outfits. Below are some things I've been eying for the upcoming semester. Sun, come soon!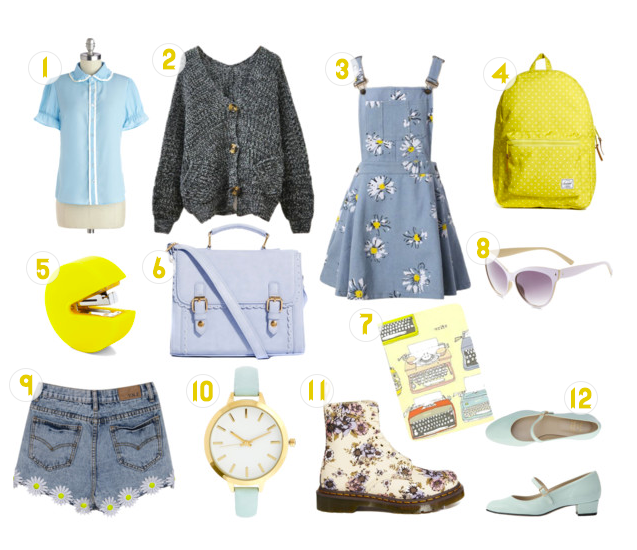 1 | 2 | 3 | 4 | 5 | 6 | 7 | 8 | 9 | 10 | 11 | 12
This post has been sponsored by Campus Book Rentals, but all opinions are my own!